firm active: 1907-1921

minneapolis, minnesota :: chicago, illinois
philadelphia, pennsylvania :: portland, oregon
---

Navigation :: Home :: The Team :: William Gray Purcell

---
Biographical Notes: William Gray Purcell (1880-1965)
Biographical essay in Guide to the William Gray Purcell Papers.
Copyright by Mark Hammons, 1985.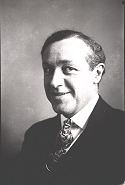 William Gray Purcell
circa 1920s
PORTLAND, 1920-1930

In 1919 Purcell chose a course of action that he hoped would renew the independence and freedom of thought he felt was lost during his time with the Alexander Brothers companies in Philadelphia. As in the years of his apprenticeship, his mind turned to the fresh, vigorous potential of the Pacific Northwest. The rich forests and rushing rivers were a potent reminder of his inspiring childhood experiences at Island Lake, Wisconsin, and the character of life in the region still relied on the free, pioneering spirit through which Purcell had first come to know his philosophical calling.
Leaving the East Coast in November, Purcell met with a fortunate coincidence upon his arrival in Portland, Oregon. His old school teacher, Helen E. Starrett, had left Oak Park years before and settled in Portland. A nationally prominent feminist leader, Starrett was on her way to Washington, D.C., to lobby for women's suffrage at a special Congressional session called by President Woodrow Wilson. She gladly rented her house to Purcell, asking only that he leave the car and the cook in the same condition in which he had found them. Getting settled, he sent for his family, including Catherine Gray and her companion Annie Ziegler who took rooms in the newly built Mallory Hotel.

At first, Purcell did not intend to continue in architectural practice. His original purpose in coming west was to join his cousin, Charles H. Purcell, in a bridge building company called the Pacific States Engineering Corporation (PSEC). A civil engineer who later designed the Oakland Bay Bridge, Charles H. Purcell had lived in Oak Park during his adolescence with Charles A. Purcell, his uncle, who subsequently financed his college education. With a loan from Charles A. Purcell, an office was opened and an accounting system started for the new partnership in 1919. Charles H. Purcell remained involved in government road building projects that prevented him from fully participating in the venture.
Looking for professional work to occupy himself in the meantime, William Gray Purcell found his interest naturally drawn back to architectural design. The Purcell & Elmslie partnership still existed, and the firm received credit for several works done during the first year that Purcell lived in Portland. Two were unbuilt projects. George Elmslie drew preliminary sketches for a resort hotel on the Hood River under a contact initially made by Charles H. Purcell, but the scheme did not proceed beyond general discussions. Elmslie also contributed to a speculative apartment building proposed for the Portland area that was not constructed for lack of investment capital.

A bridge and a personal residence for Purcell attributed to Purcell & Elmslie were built. Under the direction of Charles H. Purcell, the U. S. Bureau of Public Roads had begun the design of a bridge to cross a small river called Wolf Creek, and William Purcell commented to his partner that the concrete building material was to be molded into historically derived masonry forms that he felt would be neither efficient or artistic. Purcell was asked to assist in the bridge design and wrote about the project to Elmslie, who replied that such a structure was essentially architecture cast from point to point through the air. These discussions led Purcell to contribute drawings for portions of the bridge that created a more dynamic effect through use of the building material.

William Gray Purcell residence
aka "Georgian Place"
Purcell and Elmslie
Portland, Oregon 1920

William Gray Purcell residence
Living room fireplace
The William Gray Purcell residence in Portland, known as "Georgian Place" after the street where it was built in 1920, was a project in that the familiar productive interchange between Purcell and Elmslie came into play for the last time. The building site was once the crest of a steep hillside and had a beautiful westward view across six miles of forested valley. An unusually precipitous grade on the site presented tremendous construction difficulties. The design of the house evolved over several months, with Elmslie sending studies from Chicago that Purcell revised from his immediate knowledge of the location. Elmslie sought to integrate the hillside atmosphere into the living arrangements. The window placement was a key part in the composition because of the dramatic vista: entrances, hallways, and the stairwell were aligned with casement openings to create the sense of dwelling among the treetops. The effect was heightened through the addition of a balcony on the north side of the house, and the positioning of the garage on the right where a mature tree was left in place to create a miniature circular driveway. In a stroke of humor, a bird house was attached to the chimney.

Beyond these few commissions little work was in prospect for Purcell during his first years in Oregon, and he turned to a variety of architectural ventures that attempted to market the services of architects to builders who would not ordinarily consider them. Several related business schemes were intended to gain architectural work for the Purcell & Elmslie partnership without using the name of the firm, in order keep potential clients from thinking architect designed work would be too costly. Advertisements for standardized plans for banks and small houses were placed in various periodicals under company names like the Cunningham Gray Architectural Service or the Builder's Plan Service. To give the impression of established and flourishing businesses, these notices usually listed the addresses for all three architectural offices one maintained in Minneapolis by Frederick A. Strauel, in Chicago by Elmslie, and in Portland by Purcell. One such advertisement that appeared in Banker's Monthly, a journal to which Elmslie occasionally contributed articles on functional bank design, resulted in a commission for the First National Bank of Adams, Minnesota. With a design typical in character of earlier small town banks by Purcell & Elmslie, the plans for the Adams bank carried the company title of the Builder's Document Service.

Beyond one bank and a few other, fruitless inquiries, the effort to generate new business was a failure. Citing poor economic circumstances, Purcell formally requested that the firm be dissolved in 1921. Elmslie, who had no financial reserves, was deeply offended and observed that his own contributions to the office had often been worth more than the salary he had received. Besides, he felt that the end of the partnership would be an admission of defeat in the architectural struggle they had waged so earnestly. After some argumentative exchange of correspondence about the distribution of minor office assets when the Chicago office was closed, the two men eventually reasserted their friendship.


Douglas Donaldson
circa 1920s
Announcement for art class being taught by Douglas Donaldson
circa 1920s
As he did with his other new companies, Purcell created the appearance of prosperity for the Pacific States Engineering Corporation (PSEC) by listing a putative office in Los Angeles. During the early 1920s, he met Douglas Donaldson, a color theorist and art instructor whose Graphical Designs were in much the same organic spirit as the advertising work Purcell had done for Alexander Brothers. The two men shared a common view of art as a process of spiritual information, and Purcell arranged for his friend to give art classes in Oregon. Donaldson reciprocated by serving as the interior design consultant for the PSEC, and allowed his name and studio address in Hollywood, California, to appear on the corporation stationery.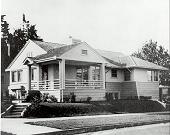 PSEC speculative house

Since the planned participation of Charles H. Purcell in the PSEC did not fully materialize and only minor consultations came through the Donaldson connection, the company became principally a developer of speculative residential properties. Although a few unbuilt apartment projects were also designed, the PSEC buildings consisted mostly of small houses located in scattered groups throughout the southeast Portland area. These dwellings were meant for people of limited means who wanted a higher quality residence than was normally available to them. They had the same basic purpose as the many plans that were being offered through various national magazine advertisements.
The PSEC houses were a mainstay of Purcell's architectural practice over the next ten years. Most sold for between seven and nine thousand dollars, and many represented experimental solutions to the special problems of the long rainy Pacific Northwest winters. For example, window frames served as the structure of the dormers and so doubled the area open to light, as in the In the first rental property built in 1922 for Eleanor M. Carleton. Other houses of the same period tried new heating systems to improve air circulation, while special shingling techniques and window casements were developed to reduce penetration by the weather. Because the houses were built along common lines within a limited budget using commercially available materials, individual variations were introduced purposely to avoid similarity of appearance. Special requirements of unusually shaped lots also contributed to the functional evolution of their plans.
Plan for the Architect's Small House Service Bureau (ASHSB)
William Gray Purcell, architect
circa 1925


ASHSB trademark logo, designed by John Jager
Purcell also showed his interest in providing readymade designs and a democratic accessibility to competent architectural services when he became involved with the Architect's Small House Service Bureau (ASHSB). A national organization of practicing architects endorsed by the American Institute of Architects, the ASHSB encouraged the building of good quality small houses by offering professionally designed stock plans. The ASHSB divided the United States into regional divisions, with national headquarters in the same Minneapolis, Minnesota, building where former Purcell & Elmslie chief drafter Frederick A. Strauel continued to do extensive drafting for Purcell. For a time Purcell served as an officer in the northwestern division of the ASHSB that included Oregon, and at least one of his small house plans was marketed through the organization.
In numerous residential designs of the Portland period Purcell carried on a free association with other architects. For example, Elmslie occasionally did sketches for the PSEC houses, although they tended to be too complex and uneconomical. Nearly all drafting for the Purcell projects in Portland was done by Frederick Strauel, who came to Oregon to work for a time during 1922. Strauel was also fully credited as associate architect with Purcell in a series of nine houses designed from 1928 to 1929 for Minneapolis developer H. M. Peterson.

James Van Evera Bailey
Date unknown


Harry S. Bastian residence
Portland, Oregon 1927
In 1925 Purcell met James Van Evera Bailey, a young architect who introduced himself as the nephew of the plumber who had worked for Purcell & Elmslie thirteen years earlier on the C. I. Buxton residence in Owatonna, Minnesota. A warm relationship between the two men was quickly blossomed, and Bailey, who was working for Portland architect Otis J. Fitch, eventually became an associate architect with Purcell in many projects. In particular Bailey was an integral participant in both the design and construction process for four houses built during the Portland years. While Purcell developed the schemes, Bailey supervised the construction details for the Harry S. Bastian residence at Lake Oswego and the Sidney Bell residence next to the W. G. Purcell house in the hills above Portland, both built in 1927. A year later, the John W. Todd and W. H. Arnold residences in Vancouver, Washington, were Purcell designs fully handled by Bailey. In the Todd and Arnold dwellings, together with the similarly conceived Wallace-Bradford residence, Purcell sought a more spiritual as well as economic expression of his functional ideals by directly exposing much of the structural building materials, and Bailey showed a sound grasp of the objective by completing the work while Purcell was away on a tour of Europe.
The largest and final major commission that Purcell received was the Third Church of Christ, Scientist, in Portland. Built in 1926, the building as completed realized only part of his design. Based on ideas that had been first considered in an earlier Christian Science project in Minneapolis, the planning provided for construction in phases and began with an intended Sunday school auditorium to which would have been added a larger main reading room as the church membership required more space. Although in the Third Church of Christ, Scientist, Purcell fulfilled a long held desire to design for this form of assembly, he later admitted that subsequent alterations to add more serviceable entrances were well justified and that some clumsiness in the first part of his own program may have contributed to the failure of the rest to be built.
While living in Portland, Purcell remained in contact with friends and associates from his midwestern practice. His continuing friendship with John Jager, who remained at work in the Hewitt & Brown office in Minneapolis, resulted in voluminous brotherly exchanges of correspondence on a vast array of scholarly subjects. Charles S. Chapman came to visit and enjoyed camping trips with the Purcell sons. When Purcell heard the sculptor Richard Bock was having difficulty getting work, he encouraged Bock to move to Oregon and was instrumental in gaining him an appointment as head of the Department of Sculpture at the University of Oregon. Bock welcomed the help and in appreciation gave Purcell a duplicate model of the "Nils the Gooseboy" sculpture that was originally placed in the Edna S. Purcell residence in Minneapolis and subsequently destroyed in shipment to Oregon.
| | | | |
| --- | --- | --- | --- |
| | | | |
Since architectural work continued to be intermittent, Purcell turned to writing and began an articulation of his views on art and architecture that continued prolifically until his death. Through his personal acquaintance with editor Willis J. Abbott, Purcell sold to the Christian Science Monitor more than a dozen articles on architectural design, particularly innovative construction techniques being applied to bridge building, which were published between 1923 and 1927. He wrote a series of advisory columns called "The Lamps of Home Building" and other contributions for The Small House, the ASHSB monthly magazine edited by his friend Maurice I. Flagg, until that publication ceased appearing in 1932. From 1929 to 1930, he edited the arts page of a Portland weekly called The Spectator, in which he explored his interests in a wide range of historical and contemporary subjects.

Purcell became increasingly active in professional, civic, and arts organizations. In 1923 he was elected president of the Oregon chapter of the American Institute of Architects, and from 1926 to 1927 he served in the same capacity with the Oregon chapter of Pro Musica, International. To develop a greater public understanding of the role of architects in the community, Purcell initiated a group called the Architect's Research Board. He joined the Portland Architectural Club, the Portland City Club, and was a moving force in the local meetings of the literary Knights of the Round Table. From 1928 to 1930, Purcell enjoyed painting on the nature outings of the mountain climbing Mazama Club, an arts organization. One of the most significant and lasting results of Purcell's involvement in the Portland arts community was the Oregon Society of Artists, of which he was a co-founder in 1927.

During the Portland years, Purcell became repeatedly entangled in disastrous financial arrangements. Real estate speculations like the purchase of the Imperial Garage, a large car service and storage facility, were costly and unprofitable. His involvement with the Guaranty Trust Company, which became insolvent shortly after he invested, forced Purcell to turn for help to his father, who had strongly advised against the venture in the first place. Although the wealthy Charles A. Purcell continued to advance money, the repeated errors in judgment shown by his son troubled their hitherto affectionate relationship. These economic uncertainties were a severe strain on his home life as well and aggravated an already shaky emotional relationship with his wife Edna.

Throughout the decade, Purcell had felt a progressive decline in his physical well being, feeling unaccountably tired and weak. Persisting in his Christian Science beliefs, he ignored an increasing shortness of breath and continuous fever. Matters worsened dramatically on a visit in 1929 to the forest cabin owned by John Jager at Lake Vermilion in Minnesota, where Purcell suddenly found himself unable to make even the most basic contributions to the camp work. In spite of his condition, he continued to believe himself simply exhausted by the stress and misfortune that seemed to have engulfed his life.

Eventually the situation grew sufficiently bad for Purcell to seek medical attention. Reluctantly persuaded by friends to see a doctor in 1930, Purcell was discovered to have advanced tuberculosis. Closing his practice and retiring with a sense of failure from the new life he had worked to make for himself, Purcell faced a dark and uncertain future.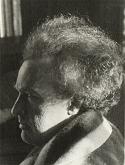 BANNING, 1931-1935

research courtesy mark hammons