firm active: 1907-1921

minneapolis, minnesota :: chicago, illinois
philadelphia, pennsylvania :: portland, oregon
---

Navigation :: Home :: Selected Works :: Residences :: Commission List

---
Edna S. Purcell Residence
also known as Lake Place
Purcell and Elmslie
Minneapolis, Minnesota 1913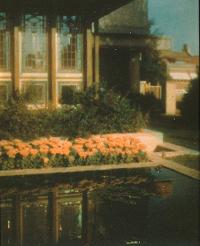 Reflecting pool, 1914 (Hess-Ives separation color process)
His home is called the Little Joker
with fireplace snug and kindly poker
while by the door there stands a column
most truly round and surely solemn
George Grant Elmslie circa 1913
Images




Additional Images
Texts
Correspondence
UNDER CONSTRUCTION. Because of the sad circumstances of the death of George Elmslie's wife Bonnie in 1912 and his subsequent return to Chicago to open a second P&E office, there exists a substantial correspondence about the design and furnishing of Lake Place. His sorrowful misfortune is our reluctant benefit, as it is possible to follow the entire process from initial sketch through construction and later enrichment in the commission of artworks. The letters, telegrams, notes, and postcards are shown in chronological order. A general description of the document stream is being accumulated.
Additional Documentation

UNDER CONSTRUCTION. A variety of interesting documents support the understanding of this design, from specifications to a publication regarding the theory of fresh air circulation that resulted in a highly complex and powerful heating and air exchange system for Lake Place. The house also had a built-in central vacuum cleaner.
Other References

Curiosa

Other Resources
The museum provides a nicely crafted web exhibit called Unified Vision: The Architecture and Design of the Prairie School, which contains didactic panels for Lake Place.

research courtesy mark hammons