Welcome!

UNDER CONSTRUCTION!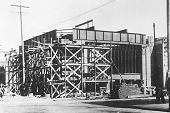 This site is dedicated to the sharing of information about the lives and works of the progressive American architects.
What's New
The Winona Savings Bank of George Washington Maher. Photographs contributed by Bill Hueg.
List of approximately 900 archival Progressive images, with thumbnails and access to larger views, available from this server, most waiting to be mounted on web pages (LARGE FILE: 818KB).
ANNOTATED BIBLIOGRAPHY: Progressive Architecture in The Architectural Record, 1891-1925

This will take some time to complete, as there are hundreds of articles to scan. The view of Progressive architecture, both pro and con toward historical forms, together with the works published of primary participants in the movement, that appeared in this Eastern establishment periodical. Includes writings by Claude Bragdon, Louis Sullivan, Frank Lloyd Wright, and others, as well as discussions about the direction of architectural education in the United States, the atelier education at L'Ècole des Beaux Arts, and the emergence of new engineering techniques and building materials. Image scans of the articles are being added as time permits.