firm active: 1907-1921

minneapolis, minnesota :: chicago, illinois
philadelphia, pennsylvania :: portland, oregon
---

Navigation :: Home :: The Team :: William Gray Purcell :: Historical Continuities

---
Biographical Notes: William Gray Purcell (1880-1965)
Biographical essay in Guide to the William Gray Purcell Papers.
Copyright by Mark Hammons, 1985.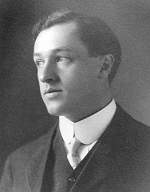 Portrait of William Gray Purcell, circa 1908
PURCELL AND FEICK, 1907-1909

The period of his first professional partnership was a time of beginnings for Purcell. During these years he relocated his home, married, and began the development of his skills in handling his business. His father settled a large sum of money on him as part of his inheritance, marking his financial independence. With ample resources, a natural interest and sensitivity toward others, and a zealous commitment to the precepts of progressive architecture, Purcell entered into the idealistic pursuit of his vocation.

Early in 1907, Purcell and George Feick took the northbound train from Chicago into the sub zero winter of Minnesota. After arriving in Minneapolis they took rooms in a boardinghouse, rented an office on the tenth floor of the New York Life Building, and mailed out engraved cards announcing the new architectural partnership of Purcell & Feick. For the next two and a half years, they worked to establish their credentials as earnest practitioners of the Sullivan derived "function and form," or organic, architecture.

The dedication of Purcell & Feick to a new and commercially unaccepted practice made securing work even more difficult for the fledgling office. The principles underlying proposed designs often had to be explained to potential clients, a process that took time and depended on an open mindedness not always present. The lack of many completed buildings as examples to demonstrate the effectiveness of their approach was another handicap to gaining commissions that took time to overcome. During their first year the architects recorded only twelve entries on their accounting system of which seven were for unrealized projects, alterations to existing structures, or insignificant consultations.

Throughout these early years Purcell continued to develop his personal and professional relationship with George Grant Elmslie. When in Chicago, Purcell would always visit the Sullivan offices in the Auditorium tower to see his friend and look at the work on the drafting tables. Elmslie gladly consulted on Purcell's architectural problems and encouraged him to read books by Edward Carpenter and others. This exposure to the mature and inspired abilities of Elmslie served to challenge as well as to support his work, and on occasion Purcell tested his own skills by keeping projects isolated from his mentor.
| | | |
| --- | --- | --- |
| Catherine Garns Gray (left), and Edna Summy Purcell (right) seen in a Lumière autochrome taken by William Gray Purcell, 1915 | | |
Other significant personal relationships also originated during this time. In December 1908 he married Edna Summy, a Wellesley graduate whose father owned a music publishing business in Chicago. The couple honeymooned in the snow covered forest at Island Lake and, when they returned, shared a house with Catherine Gray, who came to Minneapolis to be near her grandson. During 1908 Purcell made the acquaintance of Minnesota architect John Jager, who became a lifelong friend who shared Purcell's interests in architecture and art. This growing sense of family of especially important to Purcell, who often felt frustrated with and even alienated from the many people to failed to respond to the message of organic architectural philosophy.
Many early business relations sprang from contacts with friends of his father or grandfather, such as H. C. Garvin of Winona, Minnesota. Like several small town supporters of Purcell & Feick, Garvin believed in the same philosophy that motivated Purcell and worked to deliver other customers to the firm and provided his own commissions. This growing network of small town businessmen, especially bankers, would eventually broaden opportunities for commissions in Minnesota, Wisconsin, Iowa, and the Dakotas. From contacts in his home town of Sandusky, George Feick, Jr., brought business to the office from Ohio, particularly speculative houses and an office building done for his father, a construction contractor.
Three views of Lake of the Isles, Minneapolis, Minnesota, circa 1910s William Gray Purcell, photographer
The residential work of the firm began with a house built in 1907 by Purcell for his own use and later named in honor of his grandmother, the
Catherine Gray residence
. After a frustrating and time consuming
first attempt
that failed to yield any useful results, Purcell tried anew by consulting with George Elmslie on a plan that integrated, among other aspects of the composition, a lot with a lake view and the desire for a detached pavilion porch. Purcell used an initial sketch by Elmslie to compose the elevations and to articulate conscientiously a structural technique that addressed his philosophical concerns about the functional use of materials.
Several significant features refined in many later designs made their first appearance in the Catherine Gray house. The use of a tented ceiling and outwardly opening casement windows were elements that would be used consistently. A new system of interior wood trim was developed to emphasize the enclosing sense of the walls, rather than the traditionally accentuated openings of windows and doors. The fireplace for the house was built with a raised hearth, another important element that would be carried forward to other work. One of the disadvantages found in this design and representing a problem that would often to be encountered in the future was the economic need to incorporate pre existing furniture in the new building. The design of such older pieces almost always seen to affected negatively the values of the architecture.

The firm furthered their ideas about residential design through submissions to various competitions and the practical experience gained by doing alterations. In March 1908 the F. W. Bird Company, a manufacturer of paper building materials, sponsored a competition to demonstrate the variety of uses to which their products could be applied. Purcell & Feick entered a design that employed the Bird Company building papers to enclose an open floor plan in a structurally innovative fashion. Although the judges selected a traditional design in preference to the Purcell & Feick entry, the effort of the firm to work with an open plan was the beginning of a series of similar residences built by the Purcell partnerships over the next decade.

A month after the Bird Company competition the firm met their first would be home owner, Minneapolitan Arthur Jones who wanted to remodel a small barn into a residence. An open floor plan similar to the Bird design was devised that also featured an unconventional window treatment. Pleased with the results and hopeful of getting some favorable publicity, Purcell & Feick made a study for a similar house that they wanted to appear in the Ladies Home Journal. The plan accomplished the feat of including five well proportioned bedrooms in a two story plus attic house measuring only twenty two by thirty feet, but whether the design was actually submitted for publication is unknown. Such experiments came to yield practical results. Although the plan for the Journal was never actually constructed, a cottage based in part on the design was built for J. D. R. Steven in Eau Claire, Wisconsin, during the spring of 1909. The harmonious arrangement of the Steven cottage so pleased the owner that when a second, larger and more formal house was required, Purcell & Feick got the commission.

Another early problem considered by the architects was the integration of modern mechanical conveniences into both residential and commercial design. Devices such as refrigerators were necessary to modern kitchens, and housing plans often had to accommodate the growing presence of the automobile in American life. For example, the 1907 plans for an unbuilt group of duplexes residence in Winona, Minnesota, included a large garage for each living unit. Purcell believed the new mechanical accoutrements for living both deserved and required equally as poetic expression in design as did the more basic requirements of human shelter, a conviction bolstered by his enthusiastic response in 1908 to The Voice of the Machines by Gerald Stanley Lee.

The first Purcell & Feick dwelling whose plan included a garage was built for Purcell's father in River Forest, Illinois, in 1909. Purcell had trouble finding a solution for the house within the imposed economic limits and came to regard his unaided completion of the design for the Charles A. Purcell residence as a point of honor. Relying solely on his own ideas, Purcell completed the residence and a slightly self conscious garage for a total of $15,500, including the lot. Earlier in 1908 the firm had built what Purcell regarded as the first garage in Minneapolis designed specifically for the service of automobiles. Featuring several innovative elements, the Motor Inn was done for Henry Goosman, who had for many years maintained a thriving livery business. The wide, round entrance door opened through a special electrohydraulic lift mechanism, and a novel sidewalk-like ledge that served as an interior curb within the building was also useful as a handy area for tools and temporary storage. Inside the office, a graduated horizontal wood trim effected a streamlined wall treatment, the whole design reflecting the sense of movement and change that was the experience of the automobile.

The two churches built during the partnership of Purcell & Feick represented diametrically opposed attitudes on the part of the different clients who commissioned them. As architects who were convinced practitioners of the Sullivan philosophy, the demands of the rector and vestry of Christ Church in Eau Claire, Wisconsin, posed something of a dilemma. The prosperous lumbermen who comprised the building committee made clear their preference for a traditional approach. Unable to lead their clients toward new and unfamiliar forms, Purcell and Feick decided to give the congregation a simple but clearly historically inspired structure that at least had the honesty of using genuine masonry walls and wooden roof trusses uncluttered by obscuring ornament.

A completely different situation occurred with the Stewart Memorial Church of 1909. The church elders were persuaded that a nontraditional design, a cube shaped church with a flat roof and missing the customary steeple, was the most economical to build as well as being a better statement of modern Protestant practice. Since the assembly could not afford to complete both the sanctuary and a Sunday school wing at the same time, wall sized sliding doors that would later open into flanking auditorium space to be located in the unbuilt section were temporarily covered as exterior walls. In his first publication written to argue for an honest American building art, Purcell expounded upon the functionalist qualities of the design in an article entitled "Expressions in Church Architecture," which appeared in the successor magazine to his grandfather's weekly, The Interior.

Sometimes commissions were lost despite the best educational efforts of the firm, and even when the client was willing to listen, Purcell was not always successful in his attempts to overcome the common taste for revivalist forms. Some clients were simply unwilling to change their minds about what constituted the appropriate appearance of a building. Purcell recommended to one group of potential bank builders that they visit the Farmers' National Bank just then being completed in Owatonna, Minnesota, but the richness and radical composition of the Sullivan bank disturbed more than enlightened them. To convey an understanding of the integrated concepts on which Purcell & Feick based their proposal for the First National Bank in Winona, Minnesota, the firm resorted to a plaster model for which, Purcell discovered, the clients had even less of an affinity.

On other projects, Purcell discovered that the clients either did not know what they needed or actually wanted something totally different from what they had said. For example, in designing a house for the wealthy E. C. Warner that would have overlooked Lake Calhoun in Minneapolis, Purcell took seriously the financial limit of forty thousand dollars. He approached the project intent on creating a comfortable and practical living space without making arbitrary decisions for the client and, as a guide to possible square footage, he wrote to Louis Sullivan requesting plans for the Bradley and Babson residences, which had cost similar amounts. Purcell prepared a series of large presentation drawings that allowed for a participation in the design process that Mr. Warner was disinclined to enjoy. The commission went to a competitor who presented an inflexible design with all details already fixed, and the ultimate expense of the residence was much more than the client had originally expressed the desire to spend.

As he would later express in many of his writing and correspondence, the disappointments and the successes of his architectural practice were considered by Purcell as landmarks in the valiant battle to an indigenous American architecture. In the first two years of their work, the firm of Purcell & Feick had made a successful beginning in carrying on that struggle. During that time he had also established a social life with people who shared his values. Surrounded by supportive family, friends, and associates, Purcell was eager for the challenges that lay ahead and filled with hope that the best was yet to come.

PURCELL, FEICK AND ELMSLIE, 1910-1912

research courtesy mark hammons