firm active: 1907-1921

minneapolis, minnesota :: chicago, illinois
philadelphia, pennsylvania :: portland, oregon
---

Navigation :: Home :: The Team

---
Parker N. Berry
1888-1918
Prospective Team Member

Parker Berry was a drafter, later independent architect, who rose to well-merited prominence in the Sullivan office after the departure of George Elmslie. Talented and creative, his work showed immense promise cut short by his untimely death at age thirty from influenza. Although Parker did not come to work for the firm, he is included here because his strongly expressed interest doing so shows the high esteem in which the P&E office was held and reflects a motivation common among those who sought employment there. It is tantalizing to speculate what he might have achieved within the context of the P&E office under the mentorship of George Elmslie, whom he clearly admired and respected.

Images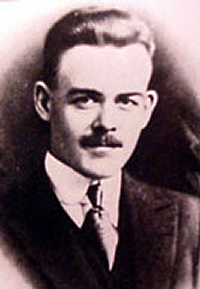 Portrait, 1910s
Texts
In 1911, moved by both professional and personal reasons, Parker Berry entered into correspondence with Purcell, Feick, & Elmslie about leaving his employment with Louis Sullivan in Chicago and coming to work for the firm in Minneapolis. Both Purcell and Elmslie encouraged this change as much as they could without the unseemly appearance of poaching an able body from Sullivan. In the end, Sullivan appears to have trumped by offering a scope of professional opportunity greater than Parker would have likely been able to exercise with P&E.
Other Resources
The Northwest Architectural Archives has a small collection of Berry materials, notably photographs of some his buildings, that was originally gifted to the University of Minnesota School of Architecture by Parker's brother Roger Berry in 1961, and thence donated to NAA in 1984.

There are photographs of two surviving Berry buildings by Tim Loftus at the PrairieStyles web site.

research courtesy mark hammons