firm active: 1907-1921

minneapolis, minnesota :: chicago, illinois
philadelphia, pennsylvania :: portland, oregon
---

Navigation :: Home :: The Team

---
Walter H. Ratcliff, Jr.
1881-1973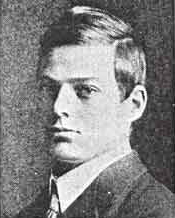 Purcell worked alongside Walter Ratcliff in the John Galen Howard office in 1905, during the years of his West Coast apprenticeship. Ten years later he renewed his professional connection with Purcell by serving as associated architect of an Edison Shop, the remodel of a storefront on Union Square in San Francisco. There is no indication yet to hand that he was associated with the Margaret Little house, built the same year of 1915 in Berkeley, the city where Ratcliff maintained his practice and eventually became City Architect, but his participation seems likely.
Ratcliff was associated architect with P&E on:
Texts

An article in __________ reviews the work of Walter Ratcliff.
Other Resources

There is a letter from Ratcliff to Frank Lloyd Wright in the Frank Lloyd Wright Archives arranging purchase of the Augesfurtebauten.

research courtesy mark hammons