firm active: 1907-1921

minneapolis, minnesota :: chicago, illinois
philadelphia, pennsylvania :: portland, oregon
---

Navigation
::
Home
::
Selected Works
::
Commercial
::
Commission List
::
George Grant Elmslie
::
Louis Henri Sullivan

---
National Farmers Bank
Louis H. Sullivan and George Grant Elmslie, architects
Owatonna, Minnesota 1905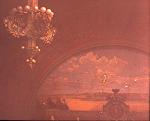 Lumiere autochrome
William Gray Purcell, photographer
1914
Related work by Purcell and Elmslie

Images
Galleries
Special Gallery

Detail Images by Tom Shearer

A selection of high resolution photographs of ornamental elements, in a special display format to allow close-up exploration of fine details not readily visible to the naked eye while in the space.
References
This superb book is the best and probably the last word on the background, design, construction, and ornamentation of the bank. Written in an accessible style with a steady chronological progress through the long term life of the building, Curve of the Arch is one of the very best texts available on any specific Prairie structure--and fortunately the subject matter is one of the very best (and mostly intact) progressive buildings.
Other Resources

research courtesy mark hammons