firm active: 1907-1921

minneapolis, minnesota :: chicago, illinois
philadelphia, pennsylvania :: portland, oregon
---

Navigation :: Home :: Furnishings and Decorations :: Metalwork :: Commission List

---
Presentation Cup for James B. Angell (low resolution view)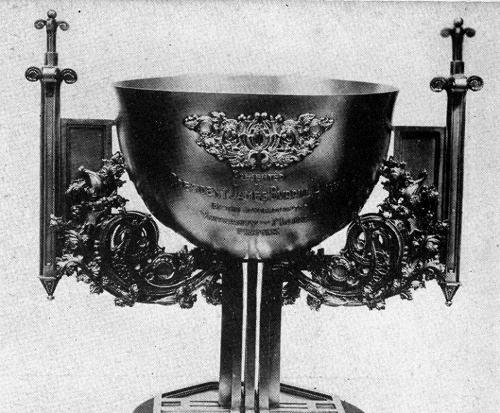 This magnificent piece of silver was commissioned as a gift from the University of Michigan to retiring President James B. Angell. A book cover, also crafted of silver and manufactured by Jarvie from an Elmslie design, accompanied the cup. Although technically not carried on the Purcell and Elmslie books, the cup was published with their work.
A higher resolution view can be found here.
---
Citation: Published in The Western Architect, July, 1915 (Vol. XXII, #1), page 7.

research courtesy mark hammons