firm active: 1907-1921

minneapolis, minnesota :: chicago, illinois
philadelphia, pennsylvania :: portland, oregon
---

Navigation :: Home :: Selected Works :: Graphical Designs :: Commission List

---
Advertising for Alexander Brothers
Purcell and Elmslie
1916-1918
During World War I, architectural work in America largely ceased except for priority industries. Alexander Brothers Leather Belting Company was such a manufacturer. Prior to the application of individual electric motors, most industrial machinery was driven from a central power plant by long, churning lengths of leather belting. Alexander Brothers, which eventually acquired another firm called the Charlotte Leather Company and changed name of the larger enterprise to International Leather Belting Corporation, hired Purcell and Elmslie as corporate architects. Relocating from Minneapolis to Philadelphia, William Gray Purcell assumed additional duties as advertising manager for the companies and their subsidiaries between 1916 and 1918.
During these three years, Purcell supervised advertising campaigns of increasing artistic achievement. He turned to familiar collaborators among his artist friends, including Charles Livingston Bull, Charles S. Chapman, and John W. Norton, for a completely fresh and innovative look; even made references to Bauhaus iconography. Materials produced annually included dozens of images and graphic layouts for posters, calendars, brochures, pamphlets, and incidental mailing pieces. Printing was done by the premium firm of Norman T. A. Munder and Company with the finest inks and papers available. Following an existing company tradition, Purcell collected representative samples from each campaign into a series of specially numbered leather bound presentation volumes. These books were themselves carefully designed to reflect a unified approach to their content. The only complete set known to survive remains in the William Gray Purcell Papers at the Northwest Architectural Archives, although individual volumes or discrete samples surface from time to time in private collections.
Images

Poster, 1916

Poster, 1917

Poster, 1917

Poster, 1918
Artwork by Charles S. Chapman

Poster
Artwork by Charles Livingston Bull

Advertising page, ca. 1917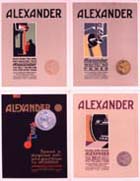 2 images are available from the University of Minnesota digital database.
Curiosa
| | | |
| --- | --- | --- |
| | | What the P&E designed campaign replaced. |
Other References

research courtesy mark hammons