firm active: 1907-1921

minneapolis, minnesota :: chicago, illinois
philadelphia, pennsylvania :: portland, oregon
---

Navigation :: Home :: Commission List

---
F. E. Tallant shop, alterations
Purcell and Feick
Minneapolis, Minnesota 1908
Although Purcell dismisses the architectural work as uninteresting "potboiler", this long established tailoring business at 38 South Third Street in Minneapolis does have another tangential connection to the Purcell firm. The wife of John Jager, Selma, worked there as a seamstress and apparently also slept at or near the shop premises during the week. Since Jager met Purcell during the same time frame, it is possible the alterations commission was a referral through this connection. By 1910, the Tallant business had either relocated or opened a second sales room at Nicollet Avenue and 5th Avenue South.
Texts
References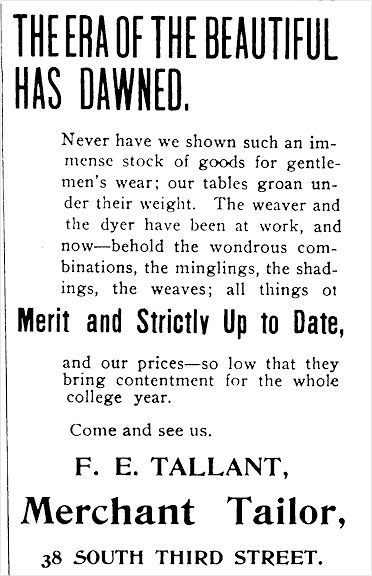 An advertisement for this shop appeared monthly in Minnesota Magazine; this example, November, 1898 [vol IV, no. 2), page 41.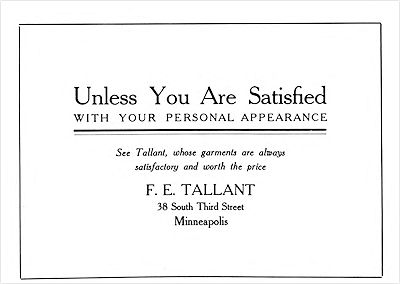 An advertisement for this business appeared annually in The Gopher, the student yearbook of the University of Minnesota, where Tallant was involved with the University YMCA; this example, Yearbook for 1908 [vol 21], unnumbered advertising plate.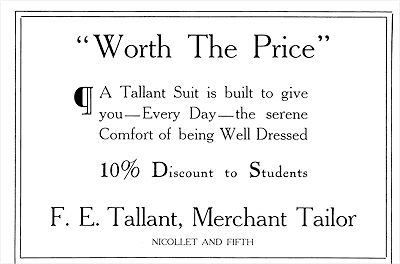 Advertisement in The Gopher, Yearbook for 1910 [vol 23], unnumbered advertising plate.

research courtesy mark hammons