firm active: 1907-1921

minneapolis, minnesota :: chicago, illinois
philadelphia, pennsylvania :: portland, oregon
---

Navigation :: Home :: Commission List

---
Western Motor Supply Company, alterations
Purcell, Feick and Elmslie
Minneapolis, Minnesota 1912
A wholesale and retail automotive supply business, the Western Motor Supply Company was located at 1015 Nicollet Avenue in Minneapolis. The business was acquired in early 1912 by Charles J. Parker, manager of the Tri-State Rubber Company located next door at 1018 Nicollet Avenue. The two concerns were combined in spring of 1912. It is probable that this alterations project was related to that merger, likely joining the two premises into a single sales facility. Parker was a residential client of Purcell, Feick, and Elmslie, whose commission for a house occurred at nearly the same time.
References

An announcement of this change in ownership was published in Automobile Trade Journal, May 1912 [vol. XVI, no. 12], page 233.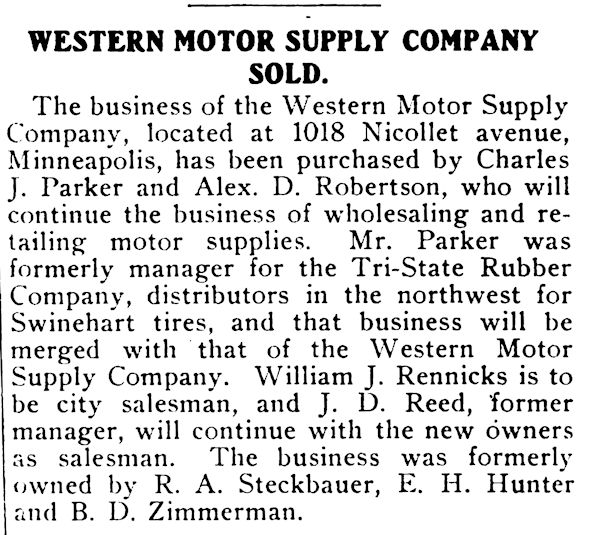 A similar announcement also appeared in Farm Implements, March 30, 1912 [vol. XXVI, no. 3], page 14.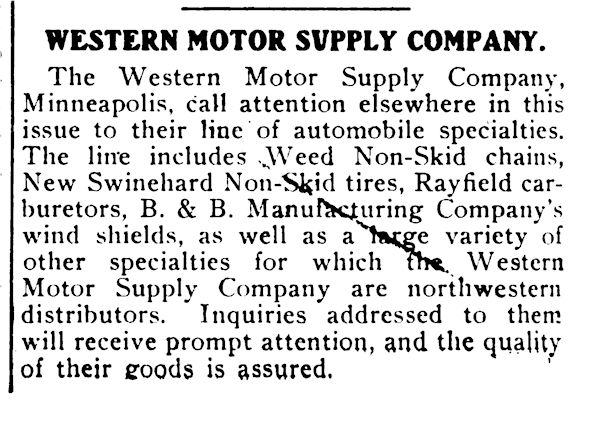 A subsequent announcement concerning product lines appeared in Farm Implements, April 30, 1912 [vol. XXVI, no. 4], page 16.

research courtesy mark hammons