firm active: 1907-1921

minneapolis, minnesota :: chicago, illinois
philadelphia, pennsylvania :: portland, oregon
---

Navigation :: Home :: The Team :: John Jager

---
John Jager
1871-1959

Biographical essay in Guide to the William Gray Purcell Papers.
Copyright by Mark Hammons, 1985.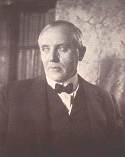 The man who served as the first conservator of the Purcell & Elmslie archives was born in Vrhnika, Slovenia, and completed his secondary education in Ljubljana, Yugoslavia. From 1892 to 1898 Jager studied in the College of Architecture at the Vienna Polytechnicum, where he remained as a university assistant for another two years following his graduation. During these years he gained his first experiences in large scale planning under Karl Mayreder, chief of the Vienna City Plan, and Max Fabiani, city planner for Ljubljana after the earthquake of 1895.

Jager left his homeland in 1901 when he was appointed architect to the Austrian mission to Peking. In China he designed and rebuilt the Austro Hungarian legation building, which had been destroyed a year earlier during the Boxer Rebellion. Jager was greatly impressed with Chinese culture and began a lifelong study of the Chinese language and arts. Shortly afterward he also visited Japan where he collected examples of vanishing handicrafts, particularly metalwork, textiles, and wood block printing.

By 1902 Jager had relocated to the American Midwest where he was reunited with his brothers who had earlier immigrated to Minneapolis, Minnesota. Jager established his own architectural office. His commissions during the first year included several Catholic churches for ethnic parishes, notably St. Bernard's, located in a German neighborhood north of the state capitol, and another German one, St. Stephen's in Brockway Township, Minnesota. In 1903 Jager published a booklet titled Fundamental Ideas in Church Architecture that argued against the rote use of historic forms in modern buildings. He also discovered he was among the few architects in the state who advocated the use of reinforced concrete construction, which many contractors at the time considered merely a passing trend that was ill suited to the extreme variations of the northern climate.

Having established himself in his new country, Jager began a family life by marrying a talented artist named Selma Erhovnic, whom he had met while a student in Vienna. The couple settled on twenty acres in south Minneapolis near Minnehaha Creek where Jager designed a large stone and wood house that blended with the natural surroundings. Jager carefully landscaped the area with plantings of red cedar trees, and he founded the Hiawatha Heights Improvement Association that encouraged any new development to be similarly sensitive to the wilderness beauty of the neighborhood.

Jager continued to develop a presence in public affairs that gained him a strong local reputation. For the Louisiana Purchase Centennial Exposition held at St. Louis, Missouri, in 1904, he painted a large mural that formed the main exhibit for Minneapolis and St. Paul. The painting provided a large scale aerial view of the cities and surrounding communities, which were shown connected together by the existing lines and proposed extensions of the street car system. Using his experiences in city planning, he presented an integrated concept of development for an area totaling two thousand square miles, which he subsequently promoted in publications and public addresses. Jager became actively involved with the Minneapolis City Planning Commission and was an author of the city plan of 1905.

Jager attended lectures by other speakers, and at a meeting of the Minneapolis Architectural Club in 1908 he heard a talk by William Gray Purcell, which prompted him to write a letter of introduction. In addition to sharing other interests, Purcell and Jager found their approach to art and architecture had a common basis in the organic principles espoused by Louis Sullivan. Jager came to be regarded as "the silent partner" in the work of Purcell & Elmslie and pseudononymously contributed an essay titled "What the Engineer Thinks" to the the January 1915 issue of the Western Architect that illustrated the work of the firm. Over the following half century the acquaintance between the Jager and Purcell ripened into a friendship in which both found comfort in times of personal adversity.

In 1909 Jager began working for the prosperous Minneapolis firm of Hewitt & Brown, where he remained for the rest of his professional career. There he specialized in engineering that used new materials and served as librarian and archivist for firm's records. Among his contributions to the work of Hewitt & Brown was the design of the interior ornament of St. Mark's Episcopal Church, built in Minneapolis in 1908 1911. For a time after World War I, Jager returned to Yugoslavia with a unit of the American Red Cross to rehabilitate small villages that had been devastated by fighting in the Balkan countryside. His efforts were eventually recognized by an award from the Yugoslav government.

By the time Jager returned to Minnesota, his friend Purcell had moved to Portland, Oregon. The two men continued to share their thoughts in frequent letters, and Purcell occasionally visited Minneapolis to pursue architectural commissions. On one visit in 1928, Purcell stayed at the Jager summer cabin on Lake Vermilion in northern Minnesota, an experience that was intended to refresh his spirits after an extended bout of business misfortunes, including several failed projects for houses in Rochester, Minnesota. The retreat at Lake Vermilion, during which Purcell appeared to be quite ill, was the last time the men saw each other, although their relationship continued in a prolific correspondence for the rest of their lives.

The stock market crash of 1929 resulted in financial ruin for Jager, who retained his house in Minneapolis and the Lake Vermilion cabin through the generosity of Purcell, and his longtime employment at Hewitt & Brown ended abruptly when that firm fell victim to the Depression. From 1933 until his professional retirement, Jager worked on several projects as superintendent of federal works for the Works Progress Administration, where he worked with former Purcell & Elmslie drafter Frederick A. Strauel. By 1940 Jager was also an editorial associate of Northwest Architect, the monthly journal of the Minnesota Society of Architects. He suggested that Purcell, then living in southern California, make a contribution to the magazine. Thus began the fifteen year series of articles by Purcell that appeared in Northwest Architect, a production in which Jager was constantly involved.

In the last decades of his life Jager was intensely devoted to his scholarly studies, particularly archeology. Although he published little, he did extensive research on the undeciphered Etruscan language and other ancient cultures. He collected a large library on art and architecture and systematically cross referenced the collection to his own copious notes. His correspondence with Purcell was the principal means of reporting his discoveries, his letters often running to many pages in a thin, fine hand. In turn, Purcell addressed innumerable short notes to Jager to share his own reading and thoughts on contemporary events.

One Jager's major accomplishments during his later years was the conserving of the records of Purcell & Elmslie and other archival materials that came into his possession. Perhaps even more than Purcell, Jager understood the historical significance of the materials that had been stored in his basement work rooms since the 1930s following the close of the last office space kept by Purcell in Minnesota. During the following thirty years he spent countless hours identifying, cataloging, preserving, and studying not only the architectural records but also the many other documents that Purcell continued to send to him. For example, Jager assembled the records of the Gray family into chronological order and, assisted by Frederick A. Strauel, he prepared the numerous display panels for the exhibition of Purcell & Elmslie work held at the Walker Art Center in Minneapolis in 1953.

In the last years of his life Jager was physically handicapped with chronic illness and became somewhat antagonistic over what he perceived as a lack of appreciation for his endeavors. The death of his only child during the 1940s greatly saddened him, and his marriage to Selma Jager grew progressively cold. He began to spend long periods of time alone at Lake Vermilion, isolated and brooding over the course of his life. His letters to Purcell eventually became openly hostile toward his friend as he expressed his disappointment at the work he had done and a resentment that recognition was apparently going to those who merely harvested his labors.

Unfortunately, the full extent of Jager's accomplishments as a scholar will never be known. While his mark on the Purcell & Elmslie archives and other Purcell records preserved many thoughtful comments on art and architecture, most of his own notes and research materials were ordered to be burned by his widow after her own death in 1974. An estate sale liquidated the library that he had so carefully assembled and dispersed his art collections. Although some Jager papers were indicated to have been sent to an archive in Ljubljana, the efforts given by John Jager to the preservation of the Purcell Papers remains his lasting contribution to the endurance of the organic principles in which he believed.

research courtesy mark hammons