Om Mani Padme Hum! Some things just blow me away, and it takes me a while to wrap my mind around them. Here's a sweet one. I was recently using the fantastically useful search capabilities at Amazon.com to find all citations of Purcell. I stumbled upon a book titled Land of Desire: Merchants, Power, and the Rise of a New American Culture by William Leach which, amid references to Sullivan color technique, quotes an obscure piece called "Creating Background and Atmosphere Which Sell Merchandise" that Purcell wrote in 1930. The surviving copy of this article amidst his papers lacks any note of where it appeared, which the bibliography of this book thoughtfully supplies--all of which is a nice prompt to add the information to the facsimile of the article as it appears in these pages, as well.

That tasty bit tucked under my wing, I happened next in line to see a mention of his work in Portland in Architectural Guidebook to Portland by Bart King and this caught my eye:
Portland Buddhist Temple [Now called Miao Fa Chan Temple]
Originally Third Church of Christ, Scientist
1722 SE Madison Street, one block north of Hawthorne Boulevard
between Seventeenth and Eighteenth Avenues
Architect: William Gray Purcell
Nifty Amazon deposited me on facsimile page whose number was not visible, but which contained this remarkable description:
"Given the year of this building's construction, its lack of decoration is unique. It is a strongly geometric structure, focused on rectangular forms in its composition; even the windows are squared off, an unusual touch for a church built in the 1920s. The architect, William Gray Purcell, once worked in the noted Chicago firm of Purcell and Elmslie, which specialized in commercial buildings in the Chicago style. Unfortunately, that style isn't particularly suited to a building with spiritual intents. Viewed from the outside, this cube-like temple could be mistaken for a bottling plant, or perhaps a Prairie-home design that got left in an industrial furnace, but nonetheless it is a landmark building and a useful structure."
First off, if you have stopped howling yet, one can only remark in passing that a more complete lack of awareness concerning the work of Purcell and Elmslie could hardly be expressed in print. Clearly, this writer had never lifted the cover of H. Allen Brooks, at a minimum, nor obviously ever typed in the name of the firm into Google or Yahoo. Naturally, Purcell not only "worked" at P&E, he happened to be a founding principal of the second most commissioned Progressive firm, especially of residences, after Frank Lloyd Wright. Since the very essence of Purcell and Elmslie was the expression of spiritual integrity, and this building for Christian Scientists responded to a very particular type of practice, the above must be allowed to pass by without dwelling further unless you want to stop for a soda.
When I made my pilgrimage to this building in 1984 (in another universe, some 23 years ago), I saw that there were concrete foundations lining an intended but never realized extension of the building. Something has been built there now, as you can see. I was comforted by seeing that the original sanctuary appeared to be unaltered on the exterior. Being Buddhist myself, I knew what was likely to have happened inside, but could only be glad of the possibility of this building being repurposed to the dharma. Imagine my delight that, although one side alcove has been closed off and the altar has completed changed the former reader's stage area, the interior remains pretty much functionally intact and even the electroliers are still there.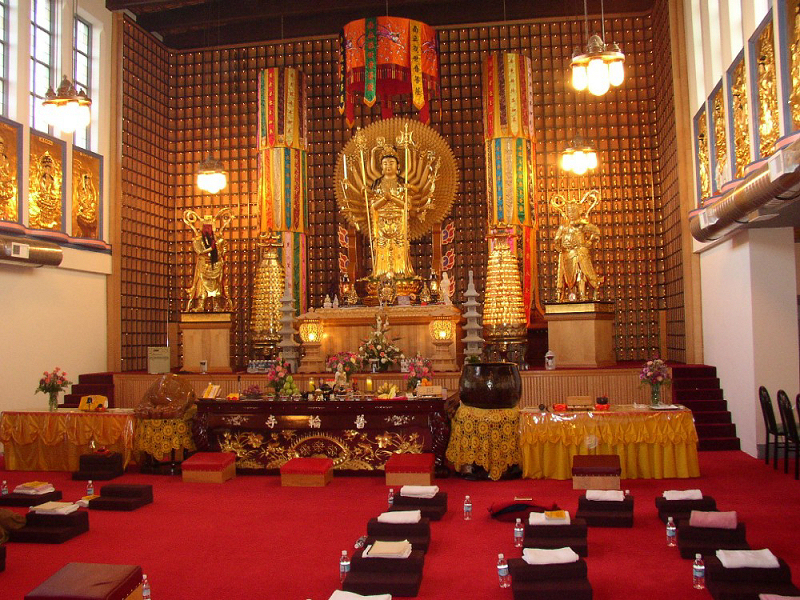 Sanctuary, present day
Source: Miao Fa Chan Temple website
This is a Chinese temple interior, but not altogether unlike the Tibetan forms that I tend toward; nonetheless I am thrilled with this outcome for a building that might have been demolished or turned into, say, a bottling plant. Utterly, profoundly wonderful! [I think the Relics Tour of the Maitreya Project needs to check in here for a visit, if it hasn't already. And if you don't believe that such things have power (I didn't but experience proved my assumption wrong), you should try sitting in the presence of the reliquaries for four or five hours. I was naturally high as a kite for days, with dharma poetry spontaneously flowing (uncharacteristically) out of me. These things pack a charge, however they came by it.] I am so ready to visit Miao Fa Chan Temple and humbly ask permission to meditate. Anyone want to scholarship me a trip to Portland? Double whammy for the bucks, good karma for architecture and merit in the dharma in one fell swoop. I wonder if my old jalopy would make it up there...naw, don't even think about it. I'm already flying anyway...

Lawrence Fournier residence
Lawrence A. Fournier, architect
Minneapolis, Minnesota
Photograph courtesy Richard Kronick
And There's So Much More Department. In my life I have been blessed with some lasting friends who are truly great human beings. Just because I asked, two of them have independently collaborated to deliver a set of photographs of the Lawrence Fournier house in Minneapolis that, taken together, cover the inside and outside. Most importantly, these images recognize the commitment and respect of devoted owners who are spending their time and treasure to restore and refit this home by one of the key drafters in the P&E office. I wish I had a decent photo of them to put up here, because these are clearly the kinds of folks that the P&E Team intended should live in their houses. They obviously have a deeply personal connection with the dwelling, and in a moment of time where the Owre house is on the block for the pickings of millionaires only, it is heartwarming to see a couple so obviously making a very fine down to earth home in the Fournier house. They've even perfectly feng shui'ed the front entrance with a substantial pair of foo dogs.
| | | | |
| --- | --- | --- | --- |
| | | | |
Although the Fournier house is more Arts & Crafts in line than a design from the P&E studio usually was (J. D. R. Stevens house in Eau Claire has this same feel on a larger scale), there is a straight shooting cleanliness in the general scheme that keeps faith with the progressive message. The house did not fare well with owners in previous decades. Like many of its kind, interior fixtures were stripped as the property changed hands, finish features faded or were removed, and clapboard siding was converted to stucco. One of the more recent owners added a fireplace mural and plaque insert to the chimney whose imagery, while romantic enough, is purely Arts & Crafts in the traditional sense and not akin to a P&E fireplace, even though witness the body of the raised hearth being exactly what it should be. Nonetheless, the house retains key elements sufficient to bring the mind to rest in wholesome values. Should I ever make it to Minneapolis, I hope to call and pay my respects.

Capitol Building and Loan Association
George Grant Elmslie, architect [George G. Elmslie and Associates]
Topeka, Kansas 1922 demolished

Panel by Emil Zettler, formerly above main entrance

Mike Springer, a friendly and generous Caravan member from St. Louis with roots in Kansas, sends along this tombstone shot of the Emil Zettler figures once found above the front entrance to the demolished Capitol Building and Loan Association bank building. Purcell expressed his unflattering opinion of this sculptural work, which was basically saying Zettler just did not have the same order of sensitivity as Richard Bock or Alphonsi Ianelli. He mentions that during this stretch of time George Elmslie was apparently "off" Ianelli for some reason. Talbot Hamlin, however, held a different view in captioning a photo for this very entrance in his "George Grant Elmslie and the Chicago Scene," piece in Pencil Points (September, 1941, page 583). Mike has provided a number of detail shots of the panel for those unlikely to venture to the park where they are now installed.