firm active: 1907-1921

minneapolis, minnesota :: chicago, illinois
philadelphia, pennsylvania :: portland, oregon
---
Navigation :: Home :: Commission List ::

---
Purcell and Elmslie advertising brochures
Purcell and Elmslie
1918
Showing factory for Alexander Brothers (Chicago, Illinois)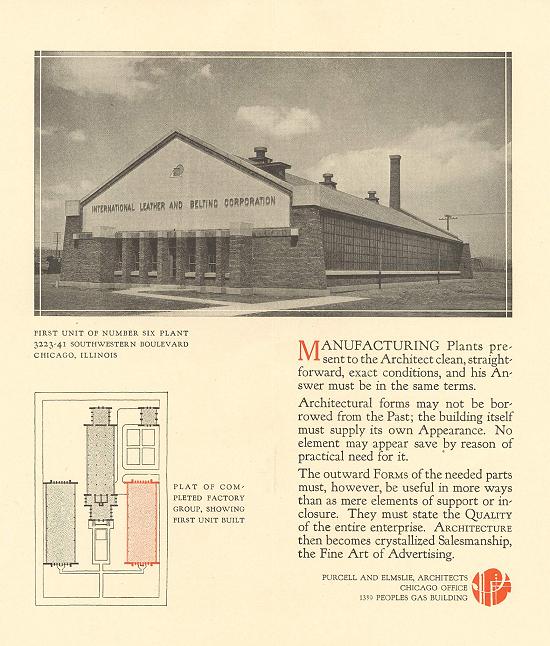 The text reads:
Manufacturing Plants present to the Architect clean, straightforward, exact conditions, and his Answer must be in the same terms.
Architectural forms may not be borrowed from the Past; the building itself must supply its own Appearance. No element may appear save by reason of practical need for it.
The outward FORMS of the needed parts must, however, be useful in more ways than as mere elements of support or inclosure [sic]. They must state the QUALITY of the entire enterprise. ARCHITECTURE then becomes crystallized Salesmanship, the Fine Art of Advertising."
Other documentation for these modular factory units.
---
Collection: William Gray Purcell Papers, Northwest Architectural Archives, University of Minnesota [AR:P&E 348].
---
research courtesy mark hammons